Saudi Airlines Baggage Rules
Flight inside Saudi Arabia


* Economy Class travelers are allowed to carry one baggage weight up to 25 kg (55 pounds) maximum.
* Business Class & First Class passenger are permitted to carry 2 piece of luggages, each weight up to 25 kg (55 pounds) max.

International Flights



* First/Business class, free baggage allowance should be 2 Pieces and the weight limit is 32 kg (70 pounds).
* For economy class, free baggage allowance is two pieces, and each piece shouldn't exceed 23 kg (50 pounds).
* Free baggage allowance for an infant is 10 kg (22 pounds).
Baggage Size Limit information

The standard dimension for all luggage capacity shouldn't exceed 62 inches or 158 cms for local & international flights.
Saudi Arabian airlines extra baggage charges
Domestic flights rate
* 140 SAR will be gathered for each additional piece that's high than what is permitted for each travel class.
* If single drop baggage exceeds allowed dimension or weight, 140 SAR will be charged.
* If the pieces measurements are over 205 cms, and can not be split, then it needs to be sent via cargo
international flights fees
* An additional $60 USD will be added if pieced exceed 23 kg (50 pounds) up to 32 kg (70 lbs) maximum.
* A USD 100$ must be billed if the piece exceeds the Standard Dimension of 157 cm (62 inches)
* Pieces exceeding 205 cm (80 inches) Aren't acceptable as checked baggage and must be sent as cargo
Cabin Baggage Weight & size limit

Saudi Airlines may allow each passenger to carry hand luggage. Check baggage allowance below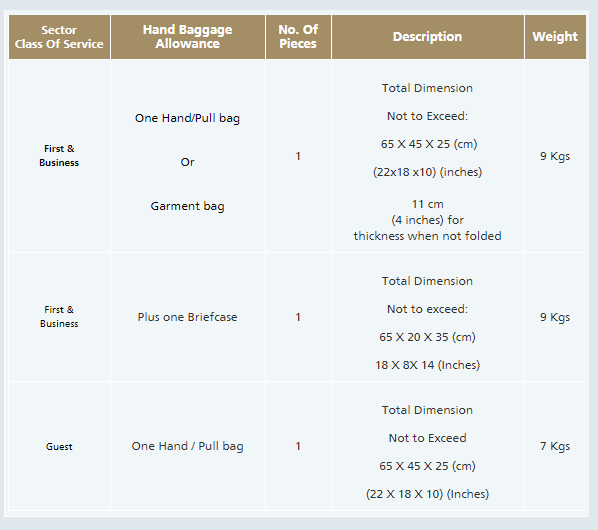 Saudi Airlines Zamzam Water Allowance
Saudia accepts Zamzam water from Umrah & Hajj. Passengers permitted to carry one gallon of Zamzam water from Sogia factory which does not exceed 5 liters.
Contact

For Saudi Airlines Cargo prices, Tv baggage rates, wifi charges, rebooking fees and more information, please contact cs@onair.aero
Saudi Arabian Airlines is one of the top air travel services in Philippines, India, UK, USA, Riyadh, Pakistan, etc…
Similar Links
Saudi Arabian Airlines Seat Plans
Saudi Arabian Airlines Check PNR Status
Saudi Arabian Airlines Frequently Asked Questions
saudi airlines baggage claim status
Saudi airlines loss baggage tracker
Saudi Arabian Airlines Web Check in
Saudi Arabian Airlines Policies page