How can I check-in With Air Arabia ?
Passengers traveling by Air Arabia can check-in online for both domestic and international flights. You can finish Air Arabia Online check in by any of the following options:
* City check-in
* early baggage check-in
* Online check-in
* web check-in
Air arabia Check in Times
* Check-in opens three hours before to flight departure time and close one hour before to departure time for economy class.
* If business class members 45 minutes prior to departure time.
* If you have any online check in error contact call center.
Air arabia maroc check in procedure
Requirements:
* Reservation Number (PNR)
* Date of travel & Departure airport
For Domestic flights, The boarding pass printed as a result of the web check-in. For international flights, you are provided with a confirmation slip which can be exchanged for a boarding pass after document verification at the counters.
After clicking above "Check in Now" button, you will see form like below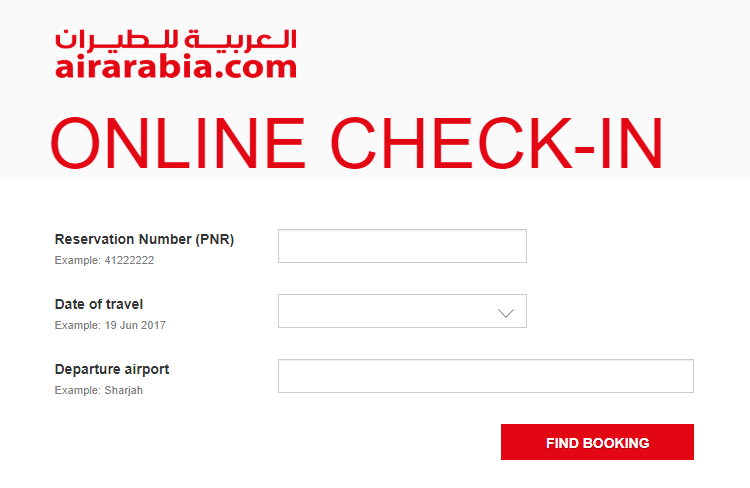 Al Air arabia Baggage Allowance Rules
* Free hand baggage allowance of 10 Kg. Dimensions of (55 x 40x 20) cms
* weight permitted individual piece of checked luggage is 32 Kgs with total size of 160 cms
For clear Details about baggage policy, go to Air Arabia Baggage Allowance and Charges
Contact
Customer Relations Phone number – (06)5580000 ( 24/7 hours)
Payment options:
* instant payment online, mobile website, iPhone app or sales offices and partner travel agents, money exchange houses, Cash payments can be accepted at any time while booking through Air Arabia sales offices
* Depend on the country many of Exchange service available to book a flight ticket.
* services available places are sharjah, dubai, casablanca, bergamo …
Similar links
Air Arabia Lost baggage tracking
Air Arabia PNR Status Check Online
Air Arabia Flight Ticket Confirmation Status
Air Arabia A320 Seat Map
Air Arabia Policies